All Victorian health services in which health care workers (including those working in hotel quarantine) have the potential to be exposed to respiratory hazards are required to implement a Respiratory Protection Program (RPP).
Where it is identified that there is a risk of respiratory hazards, including COVID-19, at a workplace, employers must eliminate the risk to the greatest degree possible. Where it is not possible to eliminate the risk, it must be controlled so far as is reasonably practicable. This is in line with WorkSafe and DHHS (Victoria) requirements.
It is no secret that COVID-19 highlighted the need for more focussed respiratory protection across our community. Whether it's health care, aged care or in other workplaces, a robust control program around this has an important role in keeping us (as part of the community) safe!
We at Edge Group are engaged by our clients to assist with their RPP needs. This is particularly focussed on respiratory fit testing and we see the main areas that we currently and competently assist our clients to be the following:
Program development/ systems / procedures and assisting with program implementation (including risk assessment of respiratory hazards before a RPP is introduced, infection control, selection of RPE etc.)
Actual (fit) testing
Training people to (fit) test
Validation/auditing of (our clients) established systms and actual (fit) testers.
The following diagram [from the Victorian Respiratory Protection Program Guidelines, DHHS Victoria, September 2020 (Version 1.1)] provides an example of how a prioritisation framework for Victorian health services might be designed to consider both the role and setting of a wearer. This may be modified to accommodate local variables.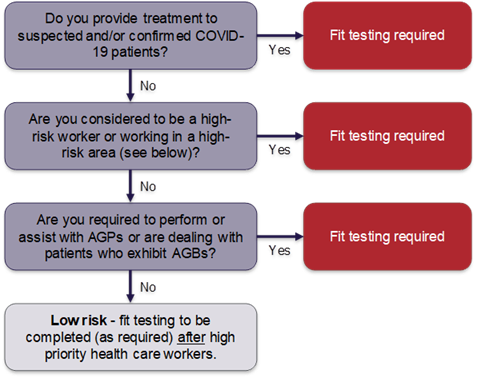 ACP - Aerosol generating procedures
AGB – Aerosol generating behaviours
High risk workers, for the purposes of the DHHS document (referenced above), are defined as:
Clinicians who have exposure to patients with infectious respiratory diseases
Emergency and first responders e.g. ambulance operational staff any other stadff identified as being at high risk of expsoure
Ancillary staff, e.g. cleamers, who are required to enter a negative pressure room
Staff who may have exposure to other respiratory hazards, such as chemical climaers or disinfectants
All other workers (who require fit testing) should be fit tested as required following the completion of high priority Health Care Workers.
It is important to note that respiratory hazards extend beyond infectious diseases (i.e. COVID-19, tuberculosis) and includes exposure to certain chemicals, such as disinfectants, surgical smoke and other chemical/biological/radiological hazards.
Remember that the use of respiratory protective equipment (RPE) is the last line of defence in the hierarchy of controls and infection prevention measures, which includes immunisation, isolation, engineering controls, environmental measures, administrative controls, hand hygiene and lastly PPE including RPE. Edge believes that this is more of an incentive to heed the (Victorian State Government) advice to implement a RPP!
Please call Simon Ercole (Certified Occupational Hygienist) on 0418 519 016 or 8625 9696 (his team) for further related advice.