Our certified Occupational Hygienist and team can provide advice on control strategies including hazard elimination, engineering modifications, administrative controls and finally personal protective equipment. We focus on worker health protection by assessing the risk of hazards and improving work conditions and work practices. We use our scientific knowledge, skills and experience to champion the protection of workers from the hazardous chemicals and other agents they have to work with. Edge prides itself on being part of the pathway to better health outcomes in your workplace.
Respiratory Fit Testing In Melbourne
All Victorian health services in which health care workers (including those working in hotel quarantine across Australia) have the potential to be exposed to respiratory hazards are required to implement a qualitative and quantitative Respiratory Protection Program (RPP).
Where it is identified that there is a risk of respiratory hazards, including COVID-19, at a Melbourne workplace, employers must eliminate the risk to the greatest degree possible. Where it is not possible to eliminate the risk, it must be controlled so far as is reasonably practicable. This is in line with WorkSafe and DHHS (Victoria) requirements.
Quantitative & Qualitative Fit Testing For Australian Companies
It is no secret that COVID-19 highlighted the need for more focussed respiratory protection across our community. Whether it's health care, aged care or in other Melbourne workplaces, a robust control program around this has an important role in keeping us (as part of the community) safe!
We at Edge Group are engaged by our clients to assist with their RPP needs. This is particularly focussed on quantitative and qualitative respiratory fit testing and we see the main areas that we currently and competently assist our Australians clients to be the following:
Program development/ systems / procedures and assisting with program implementation (including risk assessment of respiratory hazards before a RPP is introduced, infection control, selection of RPE etc.)
Actual (fit) testing
Training people to (fit) test
Validation/auditing of (our clients) established systems and actual (fit) testers.
Our Fit Testing Services Protect Australians
The following diagram [from the Victorian Respiratory Protection Program Guidelines, DHHS Victoria, September 2020 (Version 1.1)] provides an example of how a prioritisation framework for Victorian health services might be designed to consider both the role and setting of a wearer. This may be modified to accommodate local variables.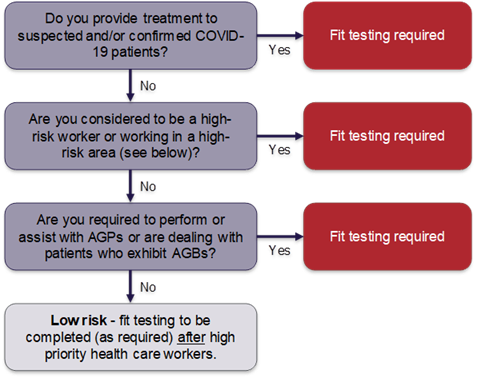 ACP - Aerosol generating procedures
AGB – Aerosol generating behaviours
High risk workers, for the purposes of the DHHS document (referenced above), are defined as:
Clinicians who have exposure to patients with infectious respiratory diseases
Emergency and first responders e.g. ambulance operational staff any other staff identified as being at high risk of exposure
Ancillary staff, e.g. cleaners, who are required to enter a negative pressure room
Staff who may have exposure to other respiratory hazards, such as chemical cleaners or disinfectants
All other Australian workers (who require both quantitative and qualitative fit testing) should be fit tested as required following the completion of high priority Health Care Workers.
Benefits Of Respiratory Fit Testing In Melbourne
It is important to note that respiratory hazards extend beyond infectious diseases (i.e. COVID-19, tuberculosis) and includes exposure to certain chemicals, such as disinfectants, surgical smoke and other chemical/biological/radiological hazards.
Remember that the use of respiratory protective equipment (RPE) is the last line of defence in the hierarchy of controls and infection prevention measures, which includes immunisation, isolation, engineering controls, environmental measures, administrative controls, hand hygiene and lastly PPE including RPE. Edge believes that this is more of an incentive to heed the (Victorian State Government) advice to implement a RPP!
Please call Simon Ercole (Certified Occupational Hygienist) on 0418 519 016 or 8625 9696 (his team) to learn about qualitative and quantitative fit testing or for further related Melbourne services and advice.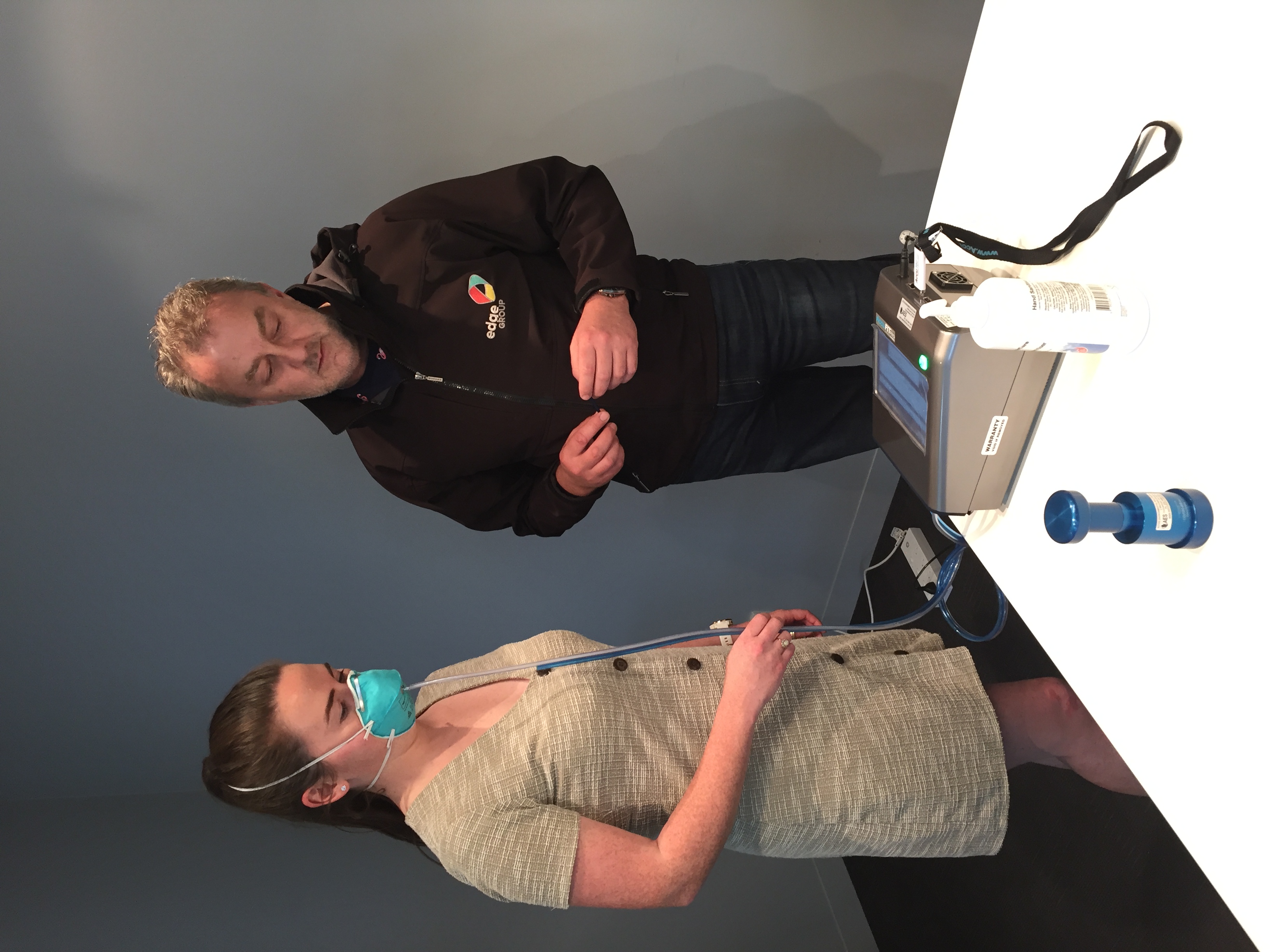 Occupational Noise
The control of noise in the workplace is an important part of the OHS framework. Comprehensive legislation now exists which regulates the amount of noise workers can be exposed to over a working day. A Noise Management Plan is required by law and a meaningful plan can lead to a safer and quieter workplace. Edge Group can offer the following in regard to OHS (or WHS) noise management:
Sound pressure level surveys, equipment measurements and noise maps;
Occupational noise assessments (personal noise dosimetry);
Recommendations for the control of noise exposures;
Recommendations on the requirements for personal hearing protective devices;
Sound Transmission Class measurement and recommendations;
Whole body/ hand-arm vibration.
Edge Group is equipped with the state-of-the-art acoustic instrumentation that complies with the relevant Australian Standards. Calibration tests are carried out as recommended by the Standards and are traceable to National Standards.
Indoor Air Quality Testing
The quality of the air we breathe is essential to our health and wellbeing, but unfortunately, many people are unaware of how it can affect their everyday lives. Here at Edge Group, we are committed to assessing indoor air quality for various working environments.
Our team of experienced environmental consultants utilise the latest in testing technology to help you identify any potential issues within your nominated workplace. If you are concerned about the quality of the air you, your employees are breathing, contact us today. We will be happy to discuss your specific requirements and recommend the best course of action for you.
What are the Benefits of an Indoor Air Quality Test in the Workplace?
There are many benefits to indoor air quality testing for your workplace. By identifying any potential problems within your workplace, you or your client can take steps to both address and remedy them.
Some of the benefits of a regular test include:
Improved Health
Poor air quality can have a negative impact on your health, which can lead to absenteeism in the workplace. It can aggravate respiratory conditions, cause allergies or asthma attacks, and even lead to chronic illnesses. Indoor air quality testing can help you identify health concerns.
Reduce Sick Days & Employee Turnover
By improving the indoor air quality in your workplace, you can also reduce the number of sick days taken by employees, impacting wider productivity. A healthy workplace environment also improves employee morale, as they feel comfortable and safe day-to-day, readying them to pursue their career and preventing turnover.
Determining Ventilation Needs
Another benefit of an indoor air quality test is that it can help determine your workplace's ventilation needs. By testing the air, you can find out how much outside air is needed to keep the air inside your workplace clean and fresh.
Contact Edge Group to Book An Indoor Air Quality Test for Your Property
To learn more about the benefits of an indoor air quality test, or our wider range of services, including local exhaust ventilation systems, soil testing, asbestos testing and general environmental duty, contact us at Edge Group today by calling (03) 8625 9696, or sending an email to info@edgegroup.net.au.
Local Exhaust Ventilation Systems
Local exhaust ventilation systems (also commonly referred to as LEV ventilation) are devices used to extract fumes and vapours from a specific area. They are often used in industrial and manufacturing settings to protect workers from the health hazards associated with exposure to various types of pollutants.
LEV ventilation works by drawing polluted air out of the designated area and releasing it into the wider atmosphere, and may also be equipped with filters that remove contaminants from the air before release.
If you are searching for a quality solution for your workplace, Edge Group are one of the leading local exhaust ventilation assessors in Melbourne. Speak with a member of our friendly team today to learn more by calling (03) 8625 9696.
Work with Reliable Local Exhaust Ventilation Assessment Suppliers
It is important to work with suppliers that understand your specific requirements and can help you choose the right system for your business.
At Edge Group, we are expert suppliers in local exhaust ventilation assessment services.
Furthermore, we can carry out regular testing to pinpoint any potential issues and apply the necessary remediations to ensure your local exhaust ventilation system continues to operate at maximum efficiency.
So, if you need any help with your LEV ventilation system assessment, we are suppliers ready to help.
Why do I need a Local Exhaust Ventilation System?
An LEV system's primary purpose is to protect employees' health by reducing their exposure to hazardous substances. In some cases, an LEV system may also be used to protect the quality of specific products or processes.
When should I use a Local Exhaust Ventilation System?
LEV systems should be used whenever there is a potential for exposure to airborne contaminants. This includes when working with hazardous substances and during processes prone to generating dust, fumes, vapours or mists.
Learn More from Edge Group on Your Local Exhaust Ventilation Systems Suppliers in Melbourne
For more information on local exhaust ventilation systems assessments in Melbourne, we would be happy to discuss your specific requirements for your workplace. Alternatively, review our other services, such as soil testing, indoor quality air testing and general environmental duty. Contact us today on (03) 8625 9696, or via email at info@edgegroup.net.au.